Forget about all-in-one turntables, soundbars & active speakers
What you really want is a hi-fi system.

This pack is designed for the true vinyl aficionado. With separate components, not only do you get better sound, but you have the flexibility to upgrade elements of this system later down the track. We like to call it future-proof.
Bluetooth as well!
This system doesn't just play records either. It has an amplifier with Bluetooth on-board too.

For those days where you can't make it off the couch to change the record, there's nothing more convenient than streaming music straight from your phone.
So, what's included?
Primary E Phono turntable
Stereo Box S3 BT amplifier
Speaker Box 5 speakers
All necessary cables
What about the next level up?
Essential Ensemble Hi-fi Pack
Essential Ensemble Hi-fi Pack
Essential III Turntable
The dense MDF used to make the Essential III turntable means that it is heavier than the Primary E turntable of the current pack you are viewing. Minimal vibration is transferred into your music and the result is a clean & rhythmic sound with excellent bass attack.

To finish the turntable, a high gloss, 8-layer piano black paint is then applied for a showroom quality shine.
MaiA S2 Amplifier
The MaiA S2 is still considered an ultra-compact integrated amplifier, in saying that, it is twice the width of the Stereo Box S2 BT. What you get for this jump in size is a whole slew of extras. More power (aka the ability to play louder music) and the addition of digital inputs, like Coax, USB, and Optical for use with TV, Computers, Streamers and CD Players.
Speaker Box 5
The Speaker Box 5 are the exact same set of speakers as the Perfect Primary Pack, but in the Essential Ensemble Pack their 8-layer high gloss paint finish now matches the Essential III Turntable. You will also get some extra volume and bass out of these speakers as they are now paired with a larger amplifier, the MaiA S2.
Check out why you'd spend a little more
Turntable: Primary E Phono
With a well-crafted, classic design, the Primary E Phono offers the kind of build quality usually associated with more expensive models.

Even better, the Primary E Phono comes with an on-board switchable phono stage, as well as the counterweight and anti-skating weight pre-set, so plugging in your turntable and getting records playing has never been easier.
Amplifier: Stereo Box S3 BT
Offering up an impressive amount of power for it's size, the Pro-Ject Stereo Box S3 BT is perfect for a desktop workspace, bedroom or a small living room.

Packing 2 AUX inputs and Bluetooth streaming into a housing that's smaller than a CD, the Pro-Ject Stereo Box S3 BT is full of surprises. You'll even be able to connect to your TV or computer into the spare input, as well as any Bluetooth device to the BT input.
Speakers: Speaker Box 5
A stylish addition to any living space, you can't beat the classic lines of the Pro-Ject Speaker Box 5. Utilizing a 2-way monitor speaker design, the slick look is maintained because the bass reflex system is on back side.

The result? Tight and clear bass, minimalist looks and outstanding performance for their size.
What's in the box?
Complete Turntable Hi-fi System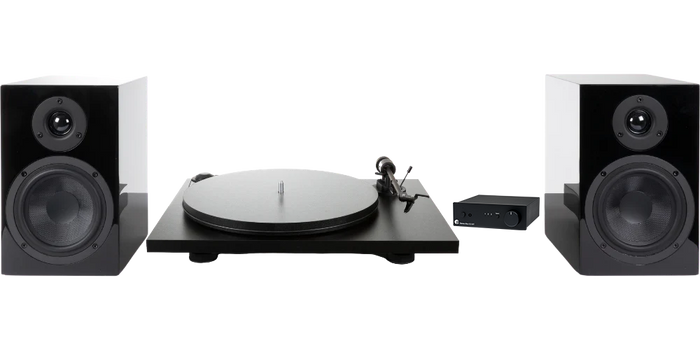 Dustcover
1.2m RCA Cable
2 x 1.5m Speaker Cable
Power Supplies
Industry Reviews
Pro-Ject has revised a budget deck ... and has succeeded on every front. The Primary E confidently nails the basics, from an even tonal balance to a delivery that's clear and clean and spacious enough to keep things coherent. It is sensitive to the sullenness of the band's instrumentals, demonstrating levels of detail and precision that are more than passable in the company of budget amplification and speakers.
Read More
Set up is a breeze. From opening the box to spinning your first record on the Primary E, even if you have never so much as laid a finger on a record player before, should be no more than ten minutes. Pro-Ject has been refining their own unboxing process for the best part of twenty years now and the process has been refined to an art. There are very few turntables that are simpler to get up and running than this one.
Read More